Skincare Routine for Dry Skin
Don't Let Dry Skin Dull your Glow
Have the chilly winter conditions begun to wreak havoc on your skin? Kirra has the steps to ensure you have the right skincare routine for dry skin. The cold, dry air during the winter months can be very harsh on the skin, but there are several solutions and preventative ways to stop it in its tracks.
Dried out skin can be caused by several factors. The number one problem with the condition is just how uncomfortable it can be. It can feel tight and flaky, and it does not matter how much moisturiser you seem to apply it never seems like enough.
Dry skin can look uneven, blotchy, with easily more noticeable fine lines and wrinkles. Try not to confuse dry skin with dehydrated skin; dried skin is when your skin naturally produces a low amount of oil. Dehydration however is when your skin is lacking water. This can become overly sensitive and reactive so make sure to use a super mild cleanser to avoid stripping the skin of its natural oils, and skip the toner if need be. Focus on adding a nutrient dense serum to boost the skin barrier and a nightly oil to lock it in. Kirra has a vast range of dry skincare options to ensure you are taking the right steps to having the perfect skincare routine for dry skin.
What Causes Dry Skin?
The number one factor is lack of moisture. Without it the skin becomes dull and dehydrated. Harsh cleaners and exfoliants should be avoided as it tends to worsen the condition. Over exposure to indoor heating such as air conditioning or fireplaces during the winter months also cause issues. It is important to note that medical conditions and allergies can also play a part.
How to Treat Dry Skin?
For those experiencing dried out skin, or who tend to have dry skin and want to prevent it, it is best to:
Remember to moisturise
Exfoliate regularly
Incorporatea hydrating serum and/or face oil into your routine
Use a hydrating mist/spritz whenever needed.
Avoid using toners with high alcohol content
Avoid hot showers and/baths, and excessive bathing/ washing
If possible, use a humidifier at home or in your workspace
Drink plenty of water.
What is the Best Skincare Routine for Dry Skin?
It is important to look for and use hydrating, nourishing and protective ingredients if you have dried out skin. It is also essential to be consistent with your routine to achieve better results and to keep dry skin at bay!
Cleanse twice daily with a super mild cleanser that will not strip the skin of its natural oils.
Exfoliate 1-3 times per week to remove any dead skin cell build up.
Apply hydrating, nutrient dense serums day/ night to boost the skin barrier.
Apply face oils each night. Heavier oils are more beneficial at night and helps lock in moisture.
Use a nourishing moisturiser day/night to lock it all in!
Use a hydrating overnight mask to wake up with plump and radiant skin.
Carry a facial spritz/mist with you during the day and apply when needed to keep your face feeling hydrated all day!
Kirra Recommends Using Our:
Day: Kirra Gentle Cleanser, *Kirra Face Scrub, Serum, Moisturiser, Kirra Face Spritz, (Key ingredients)
Night: Kirra Gentle Cleanser, *Kirra Face Scrub, Face and/or Eye serum, Face Oil, Moisturiser, (Key Ingredients)
*IMPORTANT: Limit exfoliating your face to between 1-2 times per week. Over exfoliation can lead to redness, irritation, and a weakened skin barrier.
Kirra recommends starting with Moisturising Gentle Cleanser/Body Wash, followed by either the Kirra Coffee Scrub or Kirra Salt & Sugar Scrub, to buff away dead skin and reveal bright glowing skin. Follow with a nourishing body moisturiser to prevent the skin from drying out! The Sensitive Sunny Balm or Rainforest Blue Moon Balm is also highly recommended to target dry areas such elbows, knees, heels, and nail cuticles.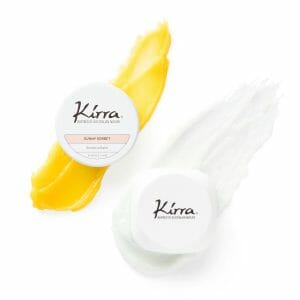 What Kirra Products work for Dry Skin?
As suggested above we have many products that are perfect for combating and helping with your skincare routine for dry skin:
Sensitive Sunny Balm – A deeply nourishing and hydrating balm that spreads easily, with no sticky residue and leaves you smelling as good as a freshly cut passionfruit! Excellent for stretch marks, dry lips, dry elbows, dry scalp, the list is endless!
Rainforest Blue Moon Balm – Containing the unique Australian extract Rainforest Blue Oil as well as refined Beeswax, it can be used on dry areas to help repair and restore moisture and soothe dry and damaged skin. It is great to keep scars hydrated helping them fade over time and for very dry targeted areas such as cuticles and elbows. This balm is also perfect for those that have skin sensitivities.
Kirra Salt and Sugar Scrub – A gentle way to exfoliant the body and keep it moisturised and soft. It is an excellent way to buff away dry, dead skin revealing fresh radiant skin with a healthy glow.
Kirra Coffee Scrub – A scrubbier alternative to the Salt and Sugar Srub, the Kirra Coffee Scrub is better used on the thighs and tummy for cellulite reduction and a generally smoother appearance in those areas. Read more about the benefits of Coffee Scrubs here.
It is also essential to take care of your scalp! Anyone can suffer from a dry scalp regardless of skin type. It can be caused by many factors from seasonal changes, skin conditions or irritation from hair products. One of the most common is the overuse of hair products such as gels, creams, shampoos, or dry shampoos which can cause build-up and cause flaking and itchiness. This can be an integral part of your skincare routine for dry skin.
To treat a dry scalp, we recommend:
Start with a nourishing Hair Oil and massage this into your scalp. This can be left in as a treatment to intensely hydrate the hair and scalp. This should be followed by a sulphate-free, hydrating Shampoo and Conditioner, then a Scalp Scrub to stimulate and exfoliate your scalp and lift any dead skin or product build up. Follow this with a leave in Hair and Scalp Serum to stimulate hair growth.
*IMPORTANT: Sulphates can strip moisture from the scalp, so it recommended to avoid hair products containing this ingredient if dry scalp is an ongoing issue.